The very first thing we saw when we got off the plane was these two iconic Boston markers.
Regular readers know I'm a hockeymom. But I'm a Leafs fan, not a Bruins fan… Still, with the recent playoff drama for both of these NHL teams (Boston and Toronto) I simply had to take these photos. 😛(sorrynotsorry)
The very next thing we saw, once we exited the airport, was the traffic.
Feels like home, I thought silently and I'm sure my sister thought the same. Toronto and Vancouver both have the typical congestion in and around airports like most metropolitan cities do… Boston appears no different.
As we waited for our hosts to pick us up, my sister got a text from them. They're stuck in traffic but are not far… I asked what kind of car we were looking for, which my sister typed into her phone, and the response was "a white one".
lol
I was hoping for some specifics. 🙃
So naturally, we began to tune out the non-white cars and zoomed in on the white ones.
It might surprise you that at least 90% of all cars we saw drive by were white. 👀
I made a comment later that day that a pushy car salesman tried to sell me my first car in white, a Toyota Tercel. My hosts explained that white cars were preferred during summer as they keep the cars cooler… which, given they used to live in Los Alomos (New Mexico) makes sense.
Anyway, we didn't have to wait long. They arrived a few minutes later in a white Sedan and we squeezed into the back seat and chatted. Mom and her friend had known each other since primary school in Switzerland; they are both in their late 70s. The driver, her husband, was also in his 70s and a celebrated Physics professor at Boston U.
The first Boston landmark they pointed out was the red roof as we drove past Logan airport. They made some comments about it which I couldn't hear. But I was interested, so I looked into it a little bit.
This was my view from the backseat of the white Sedan.
*****
Here is what Boston.com had to say about it back in April 2023.
Logan's Terminal E architect explains the new 'Boston Red' building and fourth-generation airports
The distinctive Terminal E not only looks futuristic from the outside, its architect describes the interior as the next generation in airport design.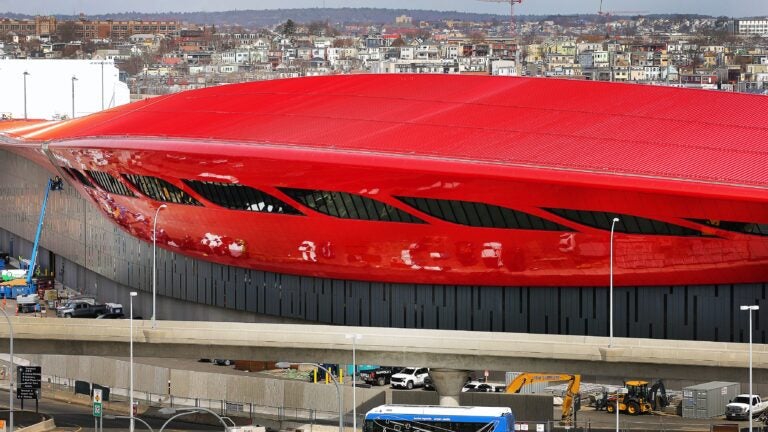 Read more here.
*****
Kind of nifty, right?
To be honest, I was more impressed with that red roof on the day we arrived than on the day we left. The day we left I thought the spaceship-like roof looked odd and out of place…
As I type these words I am on the fence how I feel about it now. What do you think?
~
Our hosts live in Brookline, a town in Norfolk County and part of the Boston metropolitan area. But we didn't go straight home; our professor host wanted to take us to the Center for Computing & Data Sciences building, up to the 17th floor, so we could get a nice view of all of Boston.
We parked on a tree-lined side street which consisted of the most architecturally gorgeous buildings.
Some of them were student residences; we saw the students packing their cars, ready to head home, wherever home was. It immediately reminded me of my own time as a student in University and even more so now since my son is about to graduate high school and awaiting acceptance letters from higher learning institutions. (Sadly not from Boston… 😥)
Side note: My first dorm was built by an architect known to build prisons. 🙄 Which isn't to say that my University of Guelph doesn't have beautiful, architecturally pleasing buildings; it most certainly does. As soon as my son receives and accepts an invitation to study there later in May, hang on to your hat, I will be writing more about that campus later.
After about a five-minute walk we arrived at a funny looking building and took the obligatory pictures.
This state of the art Center for Computing & Data Sciences opened in 2022 and features a unique exterior, advanced resources, is environmentally sensitive and its interior spaces are designed to facilitate collaboration. (Source: https://www.bu.edu/cpo/project/center-for-computing-data-sciences/)
If you're interested for more information, click the link above.
Before we entered, we glanced across the street at a mansion we were told was called The Castle. There was a wedding happening over there and we got a glimpse of the bride.
This Tudor Revival mansion, also called the Dahod Family Alumni Center, is a hidden gem and overlooks the Charles River. It was completed in 1915, lavishly furnished and meticulously maintained, and features mahogany paneling, beamed ceilings, a massive fireplace and crystal chandeliers.
Click this link if you want to now more about this mansion.
I absolutely love these old campuses. I love the housing, the architecture, the mature trees in full spring bloom, the cobble roads here and there, the atmosphere, all of it. So pretty!
We finally entered the Science building and waited for the elevator to take us up to the 17th floor. It stopped on the 14th and wouldn't let us out. Our professor tried his security card, but it was locked. They restricted access to the top floors on the weekend, it seemed.
Sigh.
So, we wandered back to our cars and I lagged behind and oohed and aahed at every pretty townhouse, brownstone and garden. Wouldn't it be nice to live in such a beautiful part of this town?
Stay tuned for the next part.
Thank you for reading! See you in the comments.